SuperRare Clone: How to launch an NFT Art Marketplace Like SuperRare?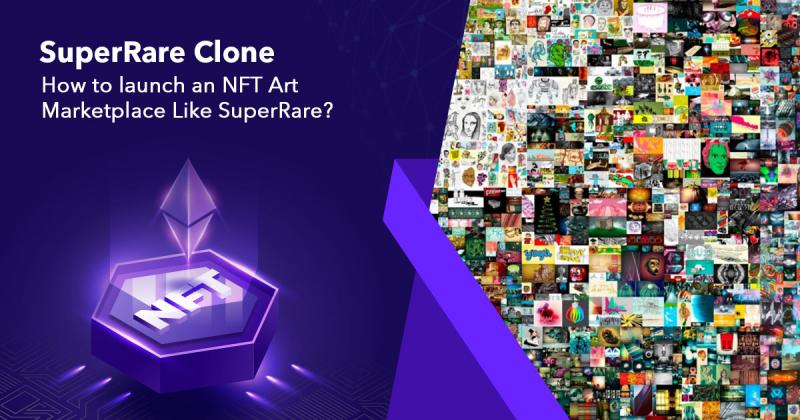 "Genuine, Precious, and Unique" are the 3 special qualities of the SuperRare NFT trading platform. Operating on the sturdy Ethereum blockchain, it is now the center for selling authentic digital artwork. Content creators across the world can organize exhibitions and special releases on the online marketplace.
SuperRare is undoubtedly a record-setter. 1460 users purchased and bought art pieces worth $22.48 million in the last 30 days as per DAppRadar. Entrepreneurs aiming to build their wealth can get hold of a customized SuperRare clone. They can reach out to an NFT platform company development company and entice artists.
Why acquire a White-label NFT Marketplace like SuperRare?
The world of crypto-collectibles is intensely competitive now. Techpreneurs can stand tall in the industry by getting a ready-to-launch NFT trading platform. They can lure interested collectors and talented artists.
Accordingly, entrepreneurs will get an advantage by buying a white-label NFT marketplace SuperRare clone from an NFT development company like Appdupe. They need not incur a huge investment initially. The returns will be high in the long run. Importantly, owners of a SuperRare like platform can modify brand elements like logo and name according to their requirements.
What are the core characteristics of the SuperRare Clone?
Featured Releases - Artists will get a high demand from investors by uploading their works on the Featured Releases section. Mostly, award-winning content creators would list their limited-edition collections. Subsequently, users can check out the number of favorites and views.
Live Auctions Option - Entrepreneurs can make a big buzz in the market by organizing real-time auctions. Likewise, buyers can purchase one-of-a-kind collectibles after viewing the deadline.
They have to tap the Reserve Met button before the start of the sale. Investors can view the current highest bids made by another buyer, the number of blocks left for the auction to end, price in ETH and USD, photos, and videos.
Market Stats dashboard - "Transparency" is the hallmark of the SuperRare NFT marketplace. It shares real-time information with artists, investors, and speculators. They will know live data about primary sales, resale value, and secondary sales. Accordingly, buyers can make the right decision while purchasing a crypto collectible.
Multi-wallet compatibility - Both creators and investors can use digital wallets like Fortmatic, MetaMask, and WalletConnect. They can safeguard their Non-Fungible Tokens (NFTs) by using private keys or secret passwords.
Submit Artist Profile - Only selected artists can enlist their content on SuperRare. Hence, investors can purchase opulent crypto collectibles. Similarly, the Ethereum-based NFT marketplace has clear-cut guidelines related to legal art pieces, originality, and non-tokenization of assets (for digital purchases) anywhere on the Internet.
They should enter details like their email address, name, portfolio, a small description, and social media link. Further, they should tap the Confirm button to guarantee that their works do not fall under copyright infringement.
24x7 technical support - Entrepreneurs should offer round-the-clock technical assistance to both artists and investors. Users can report issues like bidding glitches, changing of passwords, file deletion and removal, intellectual property infringement, and payment processing problems.
Top Collectors Section - Digital collectibles are being bought in huge quantities by both institutional and retail investors. Subsequently, the marketplace identical to SuperRare splits the purchases into 4 periods (daily, 7 days, 30 days, and 12 months).
Users can check out the total sales in Ethereum (ETH), as well as, US Dollar (USD). Insightful information is available about the average price, most valuable bid, number of NFTs (collected and owned), total purchases, and resales.
Trending Artists Panel - Highly admired artists would be ranked depending on the total sales. NFT buyers will know the average secondary market cost, selling price, the background of the content creator, the highest sale, and secondary market sales. They can purchase lucrative collectibles as per their requirements.
How is the $RARE token special for SuperRare?
The Rarible NFT marketplace launched its Rarible Governance Token (RGT). Similarly, the SuperRare trading platform came out with $RARE, a curation token for artists. All the holders of the $RARE token can influence development and governance. They can make crucial decisions and vote on the guidelines of the online marketplace.
Importantly, the valuable tokens ($1.68 each) can be obtained by both artists and collectors through airdrop programs. Currently, SuperRare is giving away free $RARE digital assets for the next 3 months. The Ethereum smart contract forms the basis of the virtual tokens. Investors can buy it from platforms like Gate.io and Uniswap.
Why is the future of the SuperRare NFT marketplace bright?
According to Jonathan Perkins, the founder of SuperRare, monthly trading volume has increased from $100,000 in 2020 to $25-30 million now. Interestingly, the Ethereum-based NFT trading platform will conduct an In Real Life (IRL) exhibition named Art Basel on the beaches of Miami.
Moreover, SuperRare is aiming to enhance the overall NFT experience. It has tied up with top brands like Samsung and VOLTA. The fast-growing NFT marketplace will also launch SuperRare Spaces in the coming months. Artists can create their own storefronts and sell their collections.
Generally, all the members of the SuperRare community can vote publicly by tapping the Space Race section. Hence, this will help the SuperRare NFT trading platform to become a powerful Decentralized Autonomous Organization (DAO).
What is the cost of SuperRare clone development?
The budget of creating a White-label NFT marketplace like SuperRare depends on numerous factors.
The key determinants of the total expenditure are
Addition of all the basic and premium features in the online platform.
Deployment of the Ethereum blockchain network and integrating the smart contract.
Hourly/ Weekly rates paid to the blockchain and crypto developers.
Level of customization demanded by entrepreneurs.
Multi-platform compatibility.
The total time is taken for front-end and back-end development.
Wrapping Up
SuperRare is growing stronger every day. It is partnering with more artists after raising $9 million in funding from investors in March 2021. Above all, the number of collectors and the featured pieces is 3600 and 15000 respectively. Besides that, 1000 new investors are purchasing crypto-collectibles every month.
Entrepreneurs can transform how the whole world views art by launching a SuperRare clone. They can approach an NFT marketplace development company like Appdupe now and emerge as a strong force in the world soon.
Author Bio
Jennifer Atkinson is a content writer at NFT development company, Appdupe. Having worked with tech experts, she has gotten lucky to author in-depth guides that teach entrepreneurs, ways to build, grow and scale their business in the on-demand apps and crypto industry. Learning new tech news and jotting them down to a plan for people is her favorite pastime.